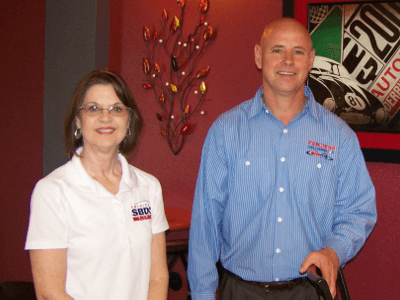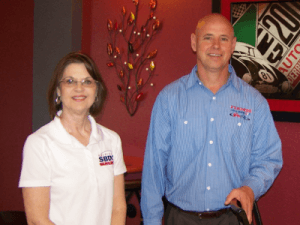 Bill Roberts of Fenders Collision USA, Inc. has been in the collision industry for a long time. He started as a collision technician in the 1980s and, after graduating from the University of West Florida, he transitioned to insurance claims with a national carrier. Realizing that his background and ability to understand the industry was valuable, Roberts opened the doors of Fenders Collision USA on April 1st, 2013 on Edge Street in Fort Walton Beach.
They say opening a small business in the middle of a recession is a bad idea and Roberts had his challenges with understanding the cash flow engine of a small business. He sought out the assistance of the Florida SBDC at UWF to help him write his business plan and begin down this road to success.
This planning process lead him to CBA Sharon Triplett at the Fort Walton Beach location of the Florida SBDC. Triplett provided guidance on the planning process but began a detailed analysis of the company financial statements and reporting to Roberts input as to the company's current financial status and how to better handle cash flow both on the payables and receivables side of the company balance sheet. "It hit me one day in a meeting with Sharon what she had been trying to educate me on all along. It was like a light bulb went off on the relationship of cash flow within the company," said Roberts.
The company like many had been challenged since start-up of this ever-present cash flow issue that plagues small and large companies alike. Small companies are great at what they do, said Roberts but the SBDC provides support in areas where we just don't have the time and resources to gain that knowledge and experience without paying a high priced employee or consultant.
Robert's established a long term working relationship with the Florida SBDC to continue to grow in his knowledge of how the financial engine of his company really works. "I was paying for everything with cash to stay out of debt which is my natural tendency but my receivables were out in the future. I learned about leverage and the cash flow cycle and the need for permanent working capital," said Roberts.
The Florida SBDC is a service provided by educated and trained staff that is invaluable to the local community. Good things are on the horizon for Fenders Collision USA.